Clothing is the most important and efective form of sun protection. This is is our first line of defense against the sun's ultraviolet rays which are harmful. Millions skin cancers are diagnosed and huge majority of them is caused by solar UV radiation. Besides skin cancer Sun causes brown spots, wrinkles and sagging skin. Luckily clothes can block and absorb a lot of this radiation.
Basics:
Sun protective clothing (see http://www.stingray.com.au/ for more info) is clothing specifically designed for sun protection and is produced from a fabric rated for its level of ultraviolet (UV) protection. A novel weave structure and denier (related to thread count per inch) may produce sun protective properties. In addition, some textiles and fabrics employed in the use of sun protective clothing may be pre-treated with UV inhibiting ingredients during manufacture to enhance their UV blocking capacity.[1]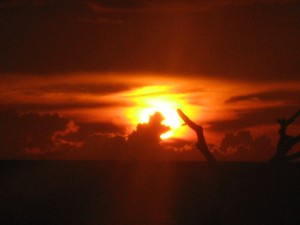 Topical sunscreens have been used for many years on exposed areas (i.e., hands, face) to protect the skin from the damaging effects of ultraviolet radiation. Most people do not use sunscreens on their bodies when they are wearing clothes. An average weight cotton T shirt gives only a sun protection factor (SPF) of 7. This is inadequate protection when out of doors. Therefore, clothing with adequate sunscreening properties should be worn. For fabrics, the term ultraviolet protection factor (UPF) is used as the measure of ultraviolet radiation penetration through the fabric. The UPF of a fabric depends upon fiber content and weave, fabric colour, finishing processes, and the presence of additives. The performance of a fabric depends upon stretching, shrinkage, hydration, laundering, and wear of the fabric over time. Based upon these criteria the minimum CDA standard UPF for clothing should be 40 to 50+. [2]
Clothing is considered one of the most important tools for sun protection. Contrary to popular opinion, however, some summer fabrics provide insufficient ultraviolet (UV) protection. The European Committee for Standardization (CEN), has developed a new standard on requirements for test methods and labelling of sun-protective garments. This document has now been completed and is published.
Within CEN, a working group, CEN/TC 248 WG14 'UV protective clothing', was set up with the mission to produce standards on the UV-protective properties of textile materials. This working group started its activities in 1998 and included 30 experts (dermatologists, physicists, textile technologists, fabric manufacturers and retailers of apparel textiles) from 11 European member states. Within this working group, all medical, ethical, technical and economical aspects of standardization of UV-protective clothing were discussed on the basis of the expertise of each member and in consideration of the relevant literature in this field. Decisions were made in consensus.
The first part of the standard (EN 13758-1) deals with all details of test methods (e.g. spectrophotometric measurements) for textile materials and part 2 (EN 13758-2) covers classification and marking of apparel textiles. UV-protective cloths for which compliance with this standard is claimed must fulfill all stringent instructions of testing, classification and marking, including a UV protection factor (UPF) larger than 40 (UPF 40+), average UVA transmission lower than 5%, and design requirements as specified in part 2 of the standard. A pictogram, which is marked with the number of the standard EN 13758-2 and the UPF of 40+, shall be attached to the garment if it is in compliance with the standard.[3]
For many years, individuals around the world have relied on sunscreen alone as their primary form of protection against ultraviolet rays (UV-R). Australia has shown that a multitactic approach to skin cancer prevention, combining sun-protective clothing with sunscreen, can be both highly effective and widely accepted by the general public. In the US, the aging baby boomer generation and rising skin cancer epidemic call for a fundamental behavioral shift toward this combination approach to sun protection. Sun-protective clothing, such as that manufactured by Coolibar and awarded the Seal of Recommendation by The Skin Cancer Foundation, offers millions of Americans the opportunity to significantly improve the quality of their lives and is an essential step in eliminating skin cancer in our world. All Coolibar clothing products carry a minimum ultraviolet protection factor (UPF) rating of 30, blocking 97% UV-R or greater. Each product in the Coolibar clothing line is individually tested and rated for its UV protection level; this process is explained in a thorough hangtag attached to the product. This tag specifies what UPF the product has received, how the UPF is figured, which testing procedures the individual product was submitted to, and if that product has received the Seal of Recommendation from The Skin Cancer Foundation. In addition to photoprotective clothing, The Skin Cancer Foundation recommends Rit Sun Guard, a photoprotective laundry additive. Rit Sun Guard washes into the clothing fibers and absorbs broadband UV-R. A single treatment of Rit Sun Guard sustains a UPF of 30 for approximately 20 launderings. The active ingredient in Rit Sun Guard is TINOSORB FD. In order to be certified by The Skin Cancer Foundation, the Coolibar clothing product must undergo extensive UPF testing to confirm the accuracy of the product labeling. Laundry additives evaluated by The Skin Cancer Foundation undergo similar tests to that of photoprotective clothing after a uniform laundering method is used to apply the product to the clothing fibers. Both of these certification processes confirm the UPF, UV-A and UV-B transmittance, and percentage blocking UV-A and UV-B. The certification process is reviewed on an annual basis.[4]
In 1999, the authors began recruitment for a randomized controlled intervention trial aimed at preventing melanocytic nevi (moles) by minimizing sun exposure through the use of sun-protective clothing. The study involves 652 Caucasian children (75.6% response) aged 0–35 months from 25 child-care centers (n = 13 intervention and n = 12 control) living in the high-solar-irradiance environment of Townsville, Queensland, Australia. Children attending intervention centers wear investigator-provided garments made from fabrics with ultraviolet protection factors rated very good to excellent. Control centers continue to offer usual care. Three-year follow-up of all children will be completed in 2005. The main outcome measure is the number of new melanocytic nevi. At baseline, the two groups were similar with respect to nevi, phenotype, age, demographic characteristics, sun-protection habits, and history of sun exposure, except that more children from control versus intervention centers (2% and 0%, respectively; p = 0.006) had experienced painful sunburn with blistering. Higher melanocytic nevus counts were associated with more time spent outdoors and a history of sunburn, while sunscreen use, particularly during the mild winter months, appeared to have a protective effect. These findings further substantiate the hypothesis that nevus development in young children is related to sun exposure.[5]
Conclusion:
As the need for better sun protection appeared with Sun becoming more and more dangerous, more outdoor clothing is made now and it has a UPF rating. Ultraviolet Protection Factor (UPF) is a rating system used for clothing. Skin protection from Sun is developing each day and perfecting.
References:
[1] http://en.wikipedia.org/wiki/Sun_protective_clothing
[2] "Sun-protective clothing." by: Adam J.
[3] "The European standard for sun-protective clothing: EN 13758" by: T Gambichler, J Laperre, K Hoffmann
[4] "Revolutionary advances in sun-protective clothing–an essential step in eliminating skin cancer in our world." by: Edlich RF, Cox MJ, Becker DG, Horowitz JH, Nichter LS, Britt LD, Lineaweaver WC, Edlich TJ 3rd, Long WB.
[5] "The North Queensland "Sun-Safe Clothing" Study: Design and Baseline Results of a Randomized Trial to Determine the Effectiveness of Sun-Protective Clothing in Preventing Melanocytic Nevi" by: Simone L. Harrison , Petra G. Buettner and Robert MacLennan