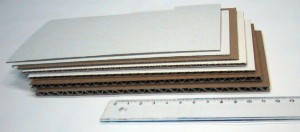 Paper and cardboard are materials often used in every day life. Life cannot be imagined without them and their production is improved every day. Their production is often questioned because of eco-questions related to it.
Paper is a thin material mainly used for writing upon, printing upon, drawing or for packaging. It is produced by pressing together moist fibers, typically cellulose pulp derived from wood, rags or grasses, and drying them into flexible sheets.
Paper is a versatile material with many uses. Whilst the most common is for writing and printing upon, it is also widely used as a packaging material, in many cleaning products, in a number of industrial and construction processes, and even as a food ingredient – particularly in Asian cultures.
Paper, and the pulp papermaking process, was said to be developed in China during the early 2nd century AD by the Han court eunuch Cai Lun, although the earliest archaeological fragments of paper derive from the 2nd century BC in China. [1]
Cardboard is a generic term for a heavy-duty paper of various strengths, ranging from a simple arrangement of a single thick sheet of paper to complex configurations featuring multiple corrugated and uncorrugated layers.[2]
Paper and cardboard are produced by draining a paper stock by a method in which a stock having a consistency of from 2.5 to 5% by weight is used as a starting material, and (a) from 0.1 to 2% by weight of an activated bentonite are added and the stock consistency is then brought to 0.3-2% by weight by dilution with water, after which (b) from 0.01 to 0.1% by weight of a cationic polyelectrolyte having a charge density of not less than 4 meq/g of polyelectrolyte is added and distributed therein, and, after thorough mixing (c) from 0.003 to 0.3% by weight of a high molecular weight polymer based on acrylamide or methacrylamide is metered in and mixed with the paper stock, the percentages in each case being based on dry paper stock, and the resulting pulp is drained on a wire. The paper obtained is distinguished in particular by good printing properties in the offset printing process.[3]
Paper or paper board is made by providing an aqueous cellulosic suspension containing a cationic polymer and then adding cationic starch or a high molecular weight synthetic cationic polymer, subjecting the suspension to shear, and then adding inorganic material selected from bentonite or colloidal silica. The process is of particular value when the suspension is formed from a mechanically derived pulp and/or deinked pulp and when the product is to be newsprint or board. [4]
An environmental assessment for Jordan Paper and Cardboard Factory (JPCF) was conducted. Cleaner production concept, what it can achieve, and how it can be applied to JPCF was tested. Using the waste audit tool, five independent options were identified as having potential for improvements; these were on site reuse, technological changes, raw material changes, good housekeeping, and product changes. For each option, one or more pollution prevention actions were recommended. Economical advantages that could be achieved in water, energy, and material savings were quantified and simple payback periods calculated. Analyses revealed that on-site reuse and technological changes were the most efficient environmental options. Although different actions might result in similar benefits, the decision to execute a certain action is dependent upon its economic viability.[5]
Your paper and cardboard production business may need a permit, licence, authorisation or exemption to prevent your activities from causing pollution or harming human health. The paper and cardboard industry includes paper and paperboard manufacturers, and businesses that produce paper and paperboard products. It also includes businesses that carry out finishing activities, such as coating, covering, laminating and embossing paper or cardboard.
Paper and cardboard production businesses can have a number of impacts on the environment, including:
1.energy use from equipment and machinery, as well as lighting, heating and cooling
2.noise pollution from vehicles, equipment and machinery
3.waste disposal such as sludge and old machinery, equipment and containers
4.water discharges from effluent and wastewater treatment plant
5.water use such as in the production process and for cooling [6]
In the papermaking process, wood is first chipped into small pieces. Then water and heat, and sometimes chemicals, are added to separate the wood into individual fibers. The fiber is mixed with lots of water (and often recycled fiber), and then this pulp slurry is sprayed onto a huge flat wire screen which is moving very quickly through the paper machine. Water drains out, and the fibers bond together. The web of paper is pressed between rolls which squeeze out more water and press it to make a smooth surface. Heated rollers then dry the paper, and the paper is slit into smaller rolls, and sometimes into sheets, and removed from the paper machine.[7]
Conclusion:
Even though computer technology is developing fast and many substitutes for paper have been developed since many years ago, paper will never lose its popularity and will always have an important role in our lives.
References:
[1] http://en.wikipedia.org/wiki/Paper
[2] http://en.wikipedia.org/wiki/Cardboard_(paper_product)
[3] "PROCESS FOR THE PRODUCTION OF PAPER AND CARDBOARD" European Patent EP0223223
[4] "Production of paper and paper board" European Patent EP0335575
[5] "Environmental assessment for paper and cardboard industry in Jordan — a cleaner production concept" by: Ghaleb Y Abbasia, Bassim E Abbassi
[6] http://www.businesslink.gov.uk/bdotg/action/layer?r.l1=1079068363&r.l2=1087321234&r.s=tl&topicId=1087477593
[7] http://www.tappi.org/paperu/all_about_paper/faq.htm