Proteins are a very importan groop of nutrients which we need to have daily in our diet. Besides being good or our skin, hair and bones proteins are involved in making muscles process.
Basics:
Proteins are essential nutrients for the human body. They are one of the building blocks of body tissue, and can also serve as a fuel source. As fuel, proteins contain 4 kcal per gram, just like carbohydrates and unlike lipids, which contain 9 kcal per gram.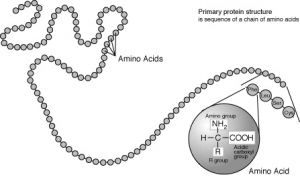 Proteins are polymer chains made of amino acids linked together by peptide bonds. In nutrition, proteins are broken down in the stomach during digestion by enzymes known as proteases into smaller polypeptides to provide amino acids for the body, including the essential amino acids that cannot be biosynthesized by the body itself. [1]
This randomized double-blind cross-over study assessed protein (PRO) requirements during the early stages of intensive bodybuilding training and determined whether supplemental PRO intake (PROIN) enhanced muscle mass/strength gains. Twelve men [22.4 +/- 2.4 (SD) yr] received an isoenergetic PRO (total PROIN 2.62 g.kg-1.day-1) or carbohydrate (CHO; total PROIN 1.35 g.kg-1.day-1) supplement for 1 mo each during intensive (1.5 h/day, 6 days/wk) weight training. On the basis of 3-day nitrogen balance (NBAL) measurements after 3.5 wk on each treatment (8.9 +/- 4.2 and -3.4 +/- 1.9 g N/day, respectively), the PROIN necessary for zero NBAL (requirement) was 1.4-1.5 g.kg-1.day-1. The recommended intake (requirement + 2 SD) was 1.6–1.7 g.kg-1.day-1. However, strength (voluntary and electrically evoked) and muscle mass [density, creatinine excretion, muscle area (computer axial tomography scan), and biceps N content] gains were not different between diet treatments. These data indicate that, during the early stages of intensive bodybuilding training, PRO needs are approximately 100% greater than current recommendations but that PROIN increases from 1.35 to 2.62 g.kg-1.day-1 do not enhance muscle mass/strength gains, at least during the 1st mo of training. Whether differential gains would occur with longer training remains to be determined. [2]
Daily requirements for protein are set by the amount of amino acids that is irreversibly lost in a given day. Different agencies have set requirement levels for daily protein intakes for the general population; however, the question of whether strength-trained athletes require more protein than the general population is one that is difficult to answer. At a cellular level, an increased requirement for protein in strength-trained athletes might arise due to the extra protein required to support muscle protein accretion through elevated protein synthesis. Alternatively, an increased requirement for protein may come about in this group of athletes due to increased catabolic loss of amino acids associated with strength-training activities. A review of studies that have examined the protein requirements of strength-trained athletes, using nitrogen balance methodology, has shown a modest increase in requirements in this group. At the same time, several studies have shown that strength training, consistent with the anabolic stimulus for protein synthesis it provides, actually increases the efficiency of use of protein, which reduces dietary protein requirements. Various studies have shown that strength-trained athletes habitually consume protein intakes higher than required. A positive energy balance is required for anabolism, so a requirement for "extra" protein over and above normal values also appears not to be a critical issue for competitive athletes because most would have to be in positive energy balance to compete effectively. At present there is no evidence to suggest that supplements are required for optimal muscle growth or strength gain. Strength-trained athletes should consume protein consistent with general population guidelines, or 12% to 15% of energy from protein. [3]
The main determinants of an athlete's protein needs are their training regime and habitual nutrient intake. Most athletes ingest sufficient protein in their habitual diet. Additional protein will confer only a minimal, albeit arguably important, additional advantage. Given sufficient energy intake, lean body mass can be maintained within a wide range of protein intakes. Since there is limited evidence for harmful effects of a high protein intake and there is a metabolic rationale for the efficacy of an increase in protein, if muscle hypertrophy is the goal, a higher protein intake within the context of an athlete's overall dietary requirements may be beneficial. However, there are few convincing outcome data to indicate that the ingestion of a high amount of protein (2–3 g · kg−1 BW · day−1, where BW = body weight) is necessary. Current literature suggests that it may be too simplistic to rely on recommendations of a particular amount of protein per day. Acute studies suggest that for any given amount of protein, the metabolic response is dependent on other factors, including the timing of ingestion in relation to exercise and/or other nutrients, the composition of ingested amino acids and the type of protein. [4]
Current dietary protein requirements were determined using essentially sedentary individuals and, therefore, are designed for the general population. Unfortunately, the recommendations from these studies have been applied to athletes as well. Because of the vast differences in daily energy expenditure alone this would seem to be a naive approach. Moreover in recent years, considerable evidence has accumulated on athletes, primarily those involved at each end of the exercise intensity-duration continuum, i.e., strength (weight lifting) to endurance (running, cycling, or swimming), suggesting that dietary protein needs may be greater by as much as 125% in comparison to sedentary individuals. The additional protein may be necessary for use as an auxiliary fuel for endurance exercise and as a supplementary source of amino acids to build and/or maintain the large muscle mass present in those who strength train. In addition, although more speculative, it is possible that other constituents in high quality protein sources, i.e., creatine, conjugated linoleic acid, carnosine, etc. may also be beneficial. the concerns expressed routinely about liver or kidney problems with high protein diets have little scientific support; however, the easy accessibility of individual amino acid supplements poses a potentially serious threat because there are likely a variety of confounding interactions and the effects of mega doses of single amino acids are largely untested. Future studies are needed to fine tune these recommendations. [5]
Conclusion:
Proteins and especally the ones from natural sources like good quality meat, milk and some nuts are of the great importance for athletes and have a huge influence on the process of muscle forming. They are always included in great quantities in athletes' diets.
References:
[1] http://en.wikipedia.org/wiki/Protein_(nutrient)
[2] "Protein requirements and muscle mass/strength changes during intensive training in novice bodybuilders" by: P. W. Lemon, M. A. Tarnopolsky, J. D. MacDougall, and S. A. Atkinson
[3] "Protein requirements and supplementation in strength sports" by: Stuart M Phillips
[4] "Protein and amino acids for athletes" by: Kevin D Tipton and Robert R Wolfe
[5] "Dietary protein requirements in athletes" by: Peter W.R. Lemon